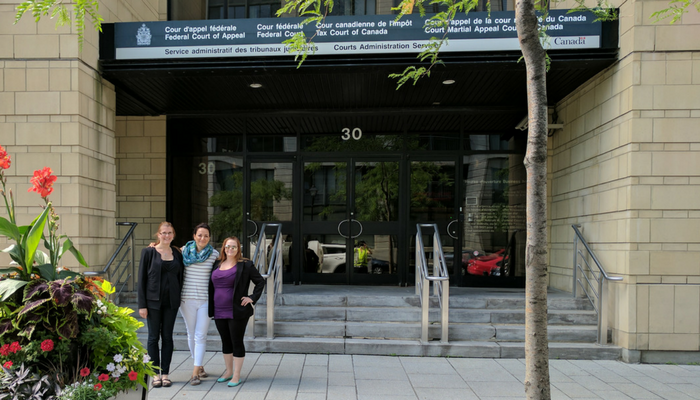 On July 19, 2017, a Judicial Review hearing took place at the Federal Court of Canada in Montreal with respect to the reasonableness and the correctness of a danger opinion issued by Canada Border Services Agency against a foreign national, who had lived in Canada for over 2 decades. While the courtrooms, buildings, and laws might have changed since it was first established in 1971, the presence and feeling of justice, fairness and equality remain the same.
The applicant, who had immigrated to Canada from Sri Lanka nearly 20 years prior and was recognized as a Convention Refugee, has since established his family and life here in Canada. But he had unfortunately also developed a criminal history while living in Canada as a permanent resident. Counsel for the applicant argued in favor of the applicant demonstrating that his presence in Canada would not endanger his family and Canadians. Counsel for the applicant argued that his criminal history would be deemed minor (petty theft and fraud).
The Federal Court judge will need to determine whether the danger opinion took into consideration various factors such as the applicant's establishment in Canada, his wife, his Canadian born children as well as the likelihood of committing other crimes.
Here are some interesting facts about the Federal Court of Canada:
•  The Federal Court of Canada was established in 1971;
•  The Court consisted a Chief Justice and 36 judges;
•  Currently, the Federal Court has 35 full-time judges, 4 supernumerary judges, and 5 prothonotaries;
•  The Federal Court has 2 divisions: the Federal Court and the Federal Court of Appeal;
•  Federal Court hearings are public and you can view the hearing list posted on the Court's website for hearing schedules;
•  Federal Court hearings are not televised;
•  For an immigration and refugee case, permission must first be obtained from the Federal Court in order for a judge to hear the case – this is called "Leave";
•  You can represent yourself at a hearing however Federal Court cases are complex and it's always recommended to hire a lawyer;
•  Counsels must address Federal Court judges in the following manners: "Justice", "Madame Justice" and "Mr. Justice";