About Keyork Immigration Law
We are a dedicated and experienced team and we are committed  to make a difference everyday for our clients.

Mary Keyork, lawyer and founder
Mary Keyork is a Canadian lawyer who specializes in Canadian immigration law and leads her own law firm, Keyork Immigration Law. She handles all types of Canadian immigration matters and visas, with a focus on contesting negative and complex decisions at all three divisions of the Immigration and Refugee Board of Canada (IRB) as well as at the Federal Court of Canada.
Mary is fluent in English, French and Armenian, and has conversational skills in Spanish.
Get to know Mary by watching the video below
Passion for immigration stems from her roots
Mary Keyork is a Canadian lawyer who specializes in Canadian immigration law and leads her own law firm, Keyork Immigration Law. Mary was born into an immigrant Armenian family in Montreal. Mary's passion for immigration stems from her roots as her great-grandparents endured and escaped the Armenian genocide in 1915 - this led her parents and grandparents to immigrate to Canada in the 70's.
Specialist in immigration with more than 10 years of experience
Given Mary's years of experience in Canadian immigration court proceedings, she provides strategies and recommendations in submitting improved and enhanced applications in order to avoid refusals. Mary also has a unique expertise in submitting spousal sponsorships and ensuring a fast and smooth reunification of couples in Canada. She also specializes in stopping deportation from Canada.
Academic background and affiliation
Civil Law Degree from the University of Montreal in 2005
Master's Degree in Transnational Law and Common Law from the University of Sherbrooke in 2006
Licensed lawyer with the Law Society of Ontario
Licensed lawyer with the Barreau du Québec (Special Permit - Canadian Legal Advisor)
Certified Specialist in Immigration Law by the Law Society of Ontario
Member of the Canadian Bar Association (CBA)
Member of the Ontario Bar Association (OBA.
Former Member-at-Large of the Immigration Section of the OBA from 2010-2011
Member of the Canadian Association of Refugee Lawyers (CARL)
Member of the Refugee Lawyer Association (RLA)
Member of the Quebec Immigration Lawyers Association (AQAADI)
Volunteer engagement in Toronto and Montreal
Mary served as a Board Member for the Armenian Family Support Services (AFSS) from 2008-2012 as well as for Hay Doun from 2012-2017, charitable organizations in Toronto and Montreal, which help newcomers settle and integrate into Canada.
Through this volunteer engagement, Mary created and conducted immigration law clinics on a pro-bono basis for several years. Mary is also currently legal counsel for la Kasa de Kamu, a charitable organization in Montreal dedicated to helping young women in Peru.
International Volunteer Experiences
Mary has a diverse background of related international volunteer experiences, including :
Internships at the United States Agency for International Development (USAID) in Yerevan (Armenia) through the Birthright Armenia in 2006
Internships at the International Labour Organization (ILO) in Geneva (Switzerland) in 2007
The Ontario Lawyer's Assistance Program (OLAP) from 2009 to 2012
The Metropolitan Action Committee on Violence Against Women and Children (METRAC), providing legal information training on the subject of the impact of changes in immigration policy on vulnerable women
Immigration training at the social work department at the Jewish General Hospital in Montreal.
Joely Greenbaum, Executive Assistant
Joely Greenbaum is the Executive Assistant at Keyork Immigration Law. Joely obtained her DEC in Law, Society and Justice at Dawson College in 2017 and is currently be majoring in International Development Studies at McGill University.
Prior to joining Keyork immigration Law, Joely worked as an Executive Assistant in a paediatric cardiology clinic and also has extensive work experience in retail and customer service. Outside of work Joely enjoys playing rugby for her club team, the Montreal Wanderers.
At the office, Joely is responsible for client phone and email intakes, opening new files, filing applications and managing our office social media and newsletter. She is fluent in English and French.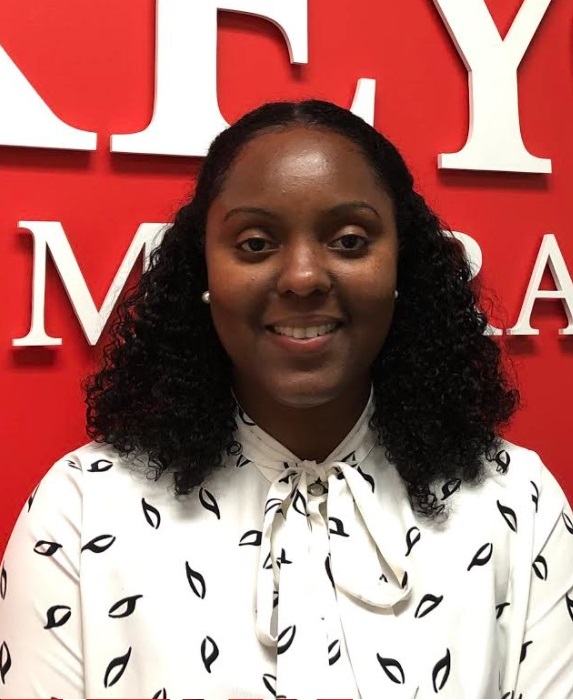 Zakia Griffin, Immigration Case Coordinator
Zakia Griffin is an Immigration Case Coordinator at Keyork Immigration Law. Zakia holds a Masters in Public Administration (MPA) with a concentration in International Development from New York University and is a Regulated Canadian Immigration Consultant (RCIC). Zakia is fluent in English and French and has a passion for helping others with their immigration needs, which leads her to enhance her knowledge about the Canadian immigration legal system.
Zakia has a diverse background in international development and education as having worked in many East &West African countries with the United States Peace Corps, non-governmental organizations and United Nations Development Programme (UNDP) on Education development and micro-finance projects.
At the office, Zakia's role is to assist clients in preparing applications, reviewing forms and documents provided by clients and providing feedback where applicable, writing legal submission letters, and communicating updates on immigration process to clients.
Josie Teed,  Administrative Assistant
Josie is the Administrative Assistant at Keyork Immigration Law. She has a background in Art History and Archaeology, obtaining her BA from McGill in 2016 and a Master of Arts in Medieval Archaeology from the University of York in 2018.
Prior to coming to Keyork Immigration Law, Josie spent a year doing curatorial and educational work at a Canadian heritage site. Outside of work, Josie writes short fiction and volunteers at the Museum of Jewish Montreal. She is fluent in English and has conversational French.
Annie YE, Immigration Case Coordinator
Annie YE is an Immigration Case Coordinator at Keyork Immigration Law. Annie holds a master's degree of Business Law in a Global Context from Université de Montréal. She is fluent in English, Mandarin and has conversational French.
Prior to joining Keyork Immigration Law, Annie worked as an immigration lawyer assistant and case manager focusing on economic immigration programs of Canada. Now she would like to continue her passionate to assist people to immigrate to Canada.
At the office, Annie's responsibilities include working closely with our immigration lawyers to conduct file assessments and determine the required next steps and documentation/information required to move files along, assisting clients in preparing submission packages involving collating all required documentation and writing submission letters, coordinating the Application process including reviewing, evaluating applications, and corresponding with clients on the status of their file etc.