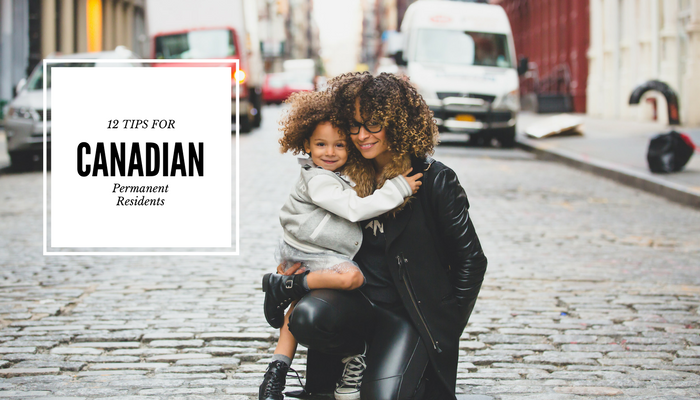 Did you or your family member recently become a Canadian Permanent Resident?
If so, here are some useful information to remember and some tips which will assist a Permanent Resident in future applications such as the renewal of the PR card after 5 years or for the Citizenship application:
1.  You need to have a valid PR card in order to travel to Canada;
2. With the current legislation, a PR of Canada needs to have spent 2 years out of 5 in Canada in order to be eligible to renew the PR card;
3. If you travel outside of Canada with your Canadian spouse, your time spent outside Canada will count towards your residency requirement;
4.  If you work abroad for a Canadian company, your time spent outside working for that company will count toward your residency requirement;
5.  To apply for citizenship, a PR of Canada must have resided physically in Canada 4 years out of 6 (current law);
6.  A citizenship application can take up to 1 year or more to process – during the processing of this application, it is recommended that PR cards be renewed and valid;
7.  If you travel frequently outside of Canada, you might be required to submit further evidence of your physical presence in Canada when you renew your PR card, therefore ensure you keep track of travel dates, plane tickets, filing Canadian taxes, bank statements etc.
8.  If you are charged or convicted of offenses in or outside of Canada, you may lose your PR status;
9.  If your PR card is expired, in the renewal process or lost and you are outside of Canada, you will need to apply for a travel document in order to return to Canada;
10.  The renewal of a PR card can sometimes take up to 1 year or more if immigration is experiencing backlogs – it is therefore recommended to submit the application shortly before or shortly after the expiration with the correct documentation;
11. As a PR of Canada, if you meet the financial requirements, you can sponsor your minor children, your parents and your grandparents to Canada;
12. If you needed a visa to travel to a country, the issuance of a PR card does not change that – you will still need to apply for a visa to travel to those countries (Ex: A Syrian national who became a PR of Canada will still need to apply for a visitor visa to travel to the United States).
We hope this information is useful for you! If you have any questions with respect to the PR status and future immigration applications, please do not hesitate to contact us!
Keyork Immigration Law hopes that your journey in Canada is fantastic!