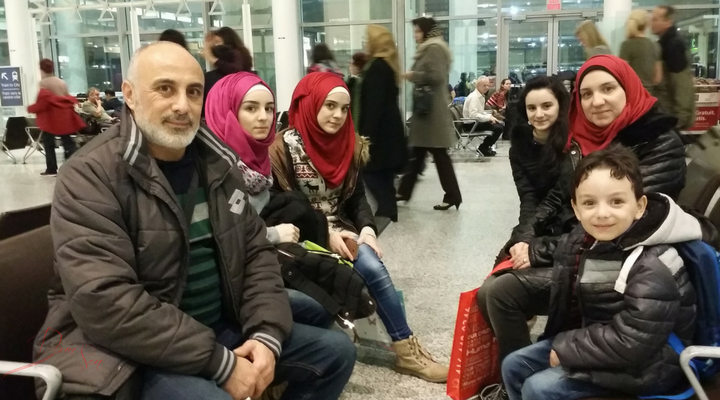 Why did this group of Canadian citizens decide to step up and raise the necessary funds to support bringing a Syrian refugee family to Canada?
The story all started back in September 2015, after reading the front page of the Globe and Mail and seeing the unfortunate drowning death of a young, two-year-old boy on the coastline of Greece. So many families were fleeing the Assad regime in Syria and risking their lives to cross the ocean to Greece.
Roslyn and some of her family and friends started investigating how to bring a family from Syria to Vancouver. Firstly, they had to find a "government approved agency" like a church who had experience in bringing refugees to Canada. After speaking with a number of agencies, they decided to partner with the Mennonite Central Committee in Abbotsford, BC because they have a great deal of experience bringing refugees into Canada from all over the world.
The Refugee Sponsorship Training Program is a fast-track option for Canadian permanent residence that allows Canadian provinces to nominate individuals and families who wish to immigrate to Canada and who are interested in settling in a particular province.
Canada immigration services allow refugees to resettle in Canada if they have the sponsorship of at least five Canadian citizens, on the condition that those citizens provide financial and emotional support.
After reviewing the qualifications to sponsor the family to come to Vancouver, the group had to raise $38,000 to provide financial support for one year. The Canadian government covers the basic living expenses for the first 6 months of their stay.
After meeting all the qualifications and getting the sponsored family approved to come to Vancouver the real challenges began.
What was the first 90 days like for the family?
The sponsor group met the family of 4 at the airport. Mum, Dad and a young son aged 2 and a daughter aged 4. The government provided a translator and a social worked to help with communication.
The first challenge was to find affordable housing in Vancouver which has a zero-occupancy rate and prices for rentals are very high. The group was enormously fortunate to have someone donate the first month's housing in an apartment/hotel which was fully furnished.
The sponsor group stocked the apartment with food suited to the Syrian diet and provided clothing and drugstore items.
After a month, the family moved to a small two-bedroom apartment which had to be furnished completely. They stayed in that apartment for 4 months and the family finally moved to their permanent home in Kitsilano. The sponsor group was able to find a very generous co-op who would help subsidize the Syrian family. They now live in a 3 bedroom, 3 bathroom, fully furnished apartment, and are very comfortable. Their rent is $850 per month which is a miracle for Vancouver.
When the family arrived, they each had one small suitcase and absolutely no money. It was a challenge to teach them about our currency, find stores that sold the kind of food they were used to and get them all to medical appointments to make sure they were healthy.
Very quickly we discovered that their 4-year-old daughter was very challenged. She had very few words, even in her own language and had terrible long-lasting tantrums. While we do not have a final diagnosis, it is suspected that she has some brain damage. She will have a 3-day assessment done at a hospital shortly but her pediatrician suspects Autism. She is in kindergarten now full time and has a full-time aide.
When the family arrived in Vancouver they did not speak any English so they had to get enrolled in English studies as soon as possible as this was one of the requirements of the Refugee Sponsorship Training Program.
The group had to focus on getting the children registered and enrolled in pre-school and school and make sure the parents enrolled in English studies. The family also had to learn some new life skills to function in Vancouver. Here are some of the many cultural adjustments the sponsoring group had to help with:
Reviewing and helping them set-up a bank account and get them a debit card. Reviewing a monthly budget.
Helping them adjust to the Canada taxation process and how to get prepared for tax time
• Cultural adjustment – Getting through the differences in languages, concepts, and values
• How to get connected with their local community for government assistance
• How to prepare a job search strategy, resume and look for work
• How to find other cultural support groups to help them transition to life in Vancouver
• Help them find a local doctor to address any heath issues they may be having
• Continue to provide friendship and support
One Year later
The family is very well settled into their new life in Vancouver with the Mother working full time and one of the children enrolled in school. The father has chosen to stay at home for now as he is looking after their 2-year-old. Dad is enrolled in English school in the evenings. Dad has a Grade 5 education and not many skills to find employment.
Dad is finding life very difficult here. He misses his parents and siblings and finds staying home all day looking after his son very boring. He struggles to learn English.
The Mother is doing well but works long hours and still wants to hire babysitters at night so she can learn English. Her English is far better than her husband's as she has a Grade 11 education.
The Sponsor's achievements
What did the group set out to achieve?
To sponsor a family to immigrate to Canada and provide the financial and emotional support collectively to ensure a successful transition to life in Canada.
Did they achieve it?
With the mother working full time now, the family is starting to move to towards self-sufficiency. For the most part, the group achieved all of their goals except for the Father not finding work to date and one of the children having some mental health issues.
How did these results affect everyone involved?
The initial 3 or 4 months were somewhat overwhelming for the group. They had the services of an Arabic speaking translator which was extremely helpful. This person made the communication with the family so much better. She did this on a volunteer basis and the group said they could not have managed without her.
What has been most rewarding was to see how well the family has adjusted to their new life. Providing them with emotional support and friendship has been very fulfilling for the group. Watching the news coming out of Syria these days and knowing they helped this family start a new life without fear has been amazing for all involved. The help that their challenged daughter is receiving is miraculous and she has responded so well. Her tantrums have diminished and she is managing to spend from 9am-3pm in school.
What would the sponsors have done differently if they had to start this sponsorship all over?
We would have liked the family to at least have some working knowledge of English before coming to Canada. The Father is going to have difficulty finding meaningful work with a Grade 5 education and their daughter is always going to have to be supervised. This makes it extremely difficult for the family to thrive. The government need's to do a better job of pre-screening refugees for medical illnesses that could put an added burden on the family and on our own government once they arrive in Canada.
As we look back at this past year since the Syrian refugees have arrived. Canadians have reacted with overwhelming support and goodwill through sponsoring and assisting refugees. The Canadian government has responded reasonably well with resources and a commitment to resettle 25,000 refugees thus far.
If you have read this, and are asking yourself how you can get involved in sponsoring a family to come to Canada you can start your journey here.
http://www.cic.gc.ca/english/refugees/welcome/sponsor/family.asp
You can also volunteer your time or donate to support refugees:
http://www.cic.gc.ca/english/refugees/welcome/sponsor/family.asp
If you are a refugee with no status who wants to claim protection from inside Canada and you are not being sponsored by a family or organization, you may want to consider the services of a qualified immigration lawyer to assist you in your refugee claim based on humanitarian and compassionate application.
A Humanitarian and Compassionate application does not stop your removal from Canada should Canada Border Services Agency choose to deport you, however having this application in process, may give you certain stay options if your application was submitted in a timely manner.
If you think you may be eligible to submit a Humanitarian and Compassionate application, please contact our office to schedule a consultation.